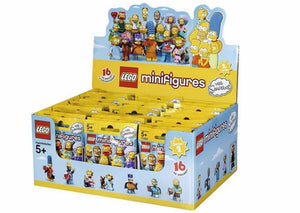 Recreate hilarious scenes from the classic animated TV series with The Simpsons Series 2 Minifigures set. Taken right out of Springfield. The series is a satirical depiction of working-class life, epitomized by the Simpson family, which consists of Homer, Marge, Bart, Lisa, and Maggie. The show is set in the fictional town of Springfield and parodies American culture and society, television, and the human condition.
A must-have for LEGO minifigure collectors and fans of The Simpsons. Have a blast with all their iconic details from The Simpsons animated television series. 
You will be amazed at how fun these minifigures are! The pictures that you see of the figures have not been altered or enhanced, that is really how they look.
Collect this exciting new series of LEGO® Minifigures characters and create new and wonderful adventures. Combine with LEGO building sets for endless play possibilities.
Have fun trading minifigures with your friends to complete your collection.