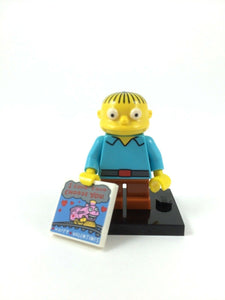 This LEGO Ralph Wiggum Minifigure with all his iconic details from The Simpsons animated television series is a must have for Simpsons fans.
A perfect gift for Ralph Wiggum in your life. Ralph Wiggum is a student of Springfield Elementary School and the son of Chief Wiggum. He is a classmate of Lisa Simpson and mentally retarded, this annoys not only his classmates but also his teacher.

This minifigure truly is incredible and are sure to amaze people and make people laugh! Perfect for your home, office or on anywhere you like.
You will be amazed at how fun these minifigures are! The pictures that you see of the figures have not been altered or enhanced, that is really how they look.
Have fun trading minifigures with your friends to complete your collection