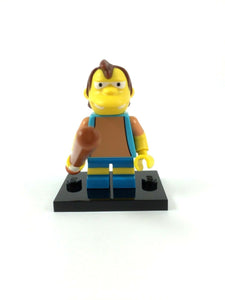 This LEGO Nelson Muntz Minifigure with all his iconic details from The Simpsons animated television series is a must have for Simpsons fans.
A perfect gift for Nelson Muntz in your life. Nelson Muntz aka Nelson Mandela Muntz, Falcon or Swell Head Slush, is one of the school hitters. His buddies are Jimbo Jones, Dolph and Kearney.

This minifigure truly is incredible and are sure to amaze people and make people laugh! Perfect for your home, office or on anywhere you like.
Have fun trading minifigures with your friends to complete your collection