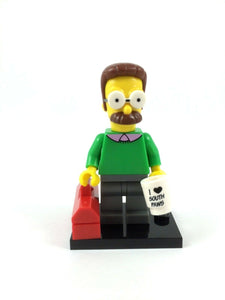 This LEGO Ned Flanders Minifigure with all his iconic details from The Simpsons animated television series is a must have for Simpsons fans.
A perfect gift for Ned in your life. If you don't know Him here is the overview

Nedward "Ned" Flanders Jr. is a staunch Christian and the neighbor of the Simpson family. He is a good-natured and generous person and one of the few in Springfield to whom this description applies. He adores God and follows the Bible as strictly as possible and is easily shocked when challenged at any point in dogma.

This minifigure truly is incredible and are sure to amaze people and make people laugh! Perfect for your home, office or on anywhere you like.

We think you will be very happy with this Ned's Minifigure and hope you have a great time playing with it!