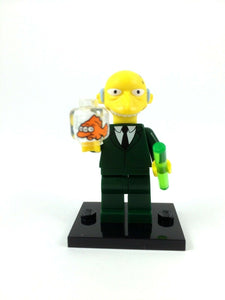 This LEGO Mr. Burns Minifigure with all his iconic details from The Simpsons animated television series.
A perfect gift for Mr. Burns in your life. If you don't know Him here is the overview

Charles Montgomery Burns is the owner of the nuclear power plant and thus Homer Simpsons boss. Above all, he is stingy and cruel. He also has a penchant for taking sweets away from children. Once this was doomed to him, because when he wanted to steal Maggie her lollipop, she shot him accidentally.

This minifigure truly is incredible and are sure to amaze people and make people laugh! Perfect for your home, office or on anywhere you like.

We think you will be very happy with this Mr. Burns Minifigure and hope you have a great time playing with it!