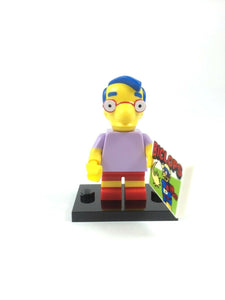 This LEGO Milhouse Van Houten Minifigure with all his iconic details from The Simpsons animated television series.
A perfect gift for Milhouse in your life. If you don't know Him here is the overview

Milhouse Mussolini van Houten, better known as Milhouse, is one of the most tenderly disciplined elementary school students and also Bart's best friend. Homer, however, does not like Milhouse and always forgets his name. Bart and Milhouse are the complete opposite of each other, which makes the two only more inseparable.

This minifigure truly is incredible and are sure to amaze people and make people laugh! Perfect for your home, office or on anywhere you like.

We think you will be very happy with this Milhouse Minifigure and hope you have a great time playing with it!