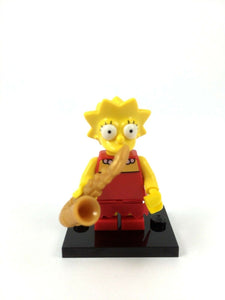 This LEGO Lisa Simpson Minifigure with all his iconic details from The Simpsons animated television series, including Lisa's saxophone. It is for easy display in your home, office or on anywhere you like.
A perfect gift for Lisa in your life. If you don't know her here is the overview

Lisa Marie Simpson is the middle child of Marge and Homer, the younger sister of Bart and the older sister of Maggie Simpson. She is 8 years old and is the best student in Springfield Primary School because she is highly intelligent. During the series, she changes to Buddhism and becomes a vegetarian. She loves music, most of all jazz and she plays saxophone.

We think you will be very happy with this Lisa Simpson Minifigure and hope you have a great time playing with it!