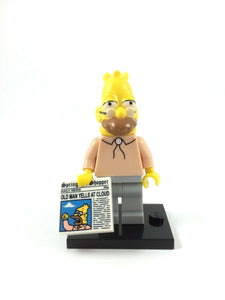 Grandpa Simpson with all his iconic details from The Simpsons animated television series, including his beloved newspaper. It is for made for your home, office or on anywhere you like.
Old Abe Simpson is a babbling fountain of questionable wisdom and advice that is almost impossible to shut off. He clearly remembers taking part in important historical events that happened long before he was born, as well as others that may never have actually occurred at all.
You will be amazed at how fun these minifigures are! The pictures that you see of the figures have not been altered or enhanced, that is really how they look.
A perfect gift for Grandpa in you life. A must-have for LEGO minifigure collectors and fans of The Simpsons