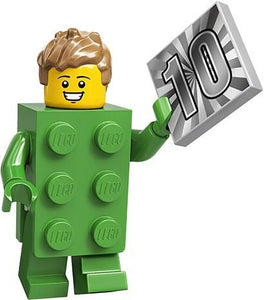 Green Brick Coustume guy all time playful guy is a green brick made into a minifig.  Previous series have a red brick guy and a blue brick guy, and now with this series we have a green one.  This is a male minifigure, with brown hair, green hands, and a smiling face.  He appears to come with a 2×2 printed tile with a great big "10" on it signifying that this is the 10th year of the CMF series.
This figure represents 1 of 16 mystery Collectible Minifigures that have been opened, identified, and replaced in clear plastic ziplock bags.

Series 20 commemorates the 10th anniversary since the Collectible Minifigures theme first launched in 2010.